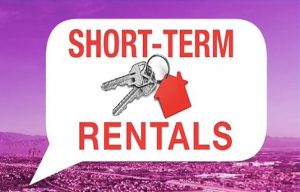 Commissioners approved an ordinance this Tuesday, June 21st to regulate short-term rentals in unincorporated parts of the county. The ordinance was prompted by the Nevada Legislature, which mandated the County to allow short-term rentals like
Airbnb
and
Vrbo
. The county will grant about 2,800 licenses for short-term rental operators – one per person. Approved applications will be put into a third-party random number generator to determine who gets the licenses.
There are a number of components to the ordinance including requirements relating to:
Occupancy – 2 people per bedroom/no more than 10 people in a short-term rental.
Minimum Stay – 2 nights
Distance Separation – Short-term rentals will have to be 1,000 feet from one another, 2,500 from a casino/hotel
Clark County will manage a 24-hour hotline to assist with public response and enforcement of the short-term rental ordinance
STR operators will have to have a representative that can respond to any issue within 30 minutes.
UPDATE:
  Clark County has released an updated FAQ to answer any questions.
VIEW IT HERE
In 2018 I had written a
blog post
explaining the impact of Short Term rentals on Vintage neighborhoods. It aged well with much of it proved true over the years. Most of the Short Term Rentals in Clark County ended up being owned by Investors, mostly from out of the area, not locals. There are some that are Owner Occupied making a few extra bucks but that is not a very large percentage.  Clark County estimates there are 7000 to 10,000 unlicensed, illegal Short Term Rentals in the Valley.   It's great that Clark County now has rules that will help make neighborhoods better once again.