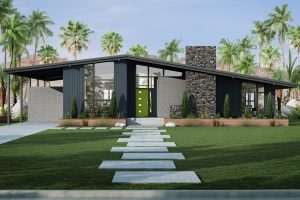 If you're a fan of mid-century style, chances are you've already heard of mid-century modern homes. These homes are a popular choice among those who appreciate a certain kind of aesthetic that includes clean, straight lines, interesting angles and textures, and abundant natural light.
Mid-century modern homes are typically characterized by the architecture and design elements associated with the mid-twentieth century. Think sweeping lines, large windows, shaded patios and courtyards, and natural materials that create a very stylish and distinctive style.
These homes are particularly popular among those looking to embrace modernity while also maintaining an appreciation of the style of the past. Mid-century modern homes represent a certain synergy between the two eras, a balanced blend of past and present.
In terms of their design, mid-century modern homes are typically minimal and open. Open floor plans are common, giving the impression of a larger space. These spaces are generally designed to bring in lots of natural light, thanks to ample windows and glass doors.
Mid-century modern homes are some of the most sought-after today and are often associated with luxury and sophisticated living. With the growing demand for these homes, many architects and builders are now adapting the style to modern needs.
From cozy suburban bungalows to luxurious, sprawling estate homes, mid-century modern-style homes are a great way to enjoy a unique, classic style while also taking advantage of the many comforts of contemporary living. So, if you're looking for a classic and stylish home, you might consider a mid-century modern home.
Some of the popular areas in Las Vegas, Nevada for Mid Century Modern Homes are Paradise Palms, McNeil, Westleigh, Spanish Oaks, Scotch 80's, and Rancho Nevada. There are really too many to list.
I've been the number one Broker of Mid-Century homes in Las Vegas for 33+ years. Give me a call if you are looking to buy or sell a vintage home.
Houses that are priced, presented & marketed correctly are selling fast.
Let my 32+ years of Real Estate experience in Las Vegas work for you. 702-378-705