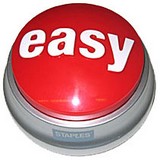 I'm totally dazed and confused trying to figure out how to make this new website work properly. The teleconferences fling so much stuff at me. There's all kinds of new programs to learn, and new techniques, and new proceedures to follow.
I'm sure I'll get the hang of it, soon enough, but in the meanwhile, it's intimidating to sit down and blog for you. But it's going to be SO WORTH IT!
The Tutorial for the new Very Vintage Vegas Website sounded a little like this.
Thanks to stapes for the Easy Button
.