If you drive along Fremont Street, East of Las Vegas Boulevard you will observe a collection of vintage motels and businesses that time forgot. These endangered properties are some of the last vestiges of mid-century road architecture left in Las Vegas.
For many years Fremont Street was the main drag for teenagers and young adults to cruise in their cars. Many longtime residents remember the days of cruising old Fremont. They would begin at the confluence of Fremont Street and Boulder Highway past the Blue Onion Drive-Up Café, now the site of the Blue Angel Motel, and head west towards the old Union Pacific Railroad Depot. This tradition continued until Fremont Street was converted into a pedestrian mall. Lower Fremont offers some of the oldest buildings still in existence in Las Vegas. Several small non-de-script buildings date back almost a century. One building in particular just east of the El Cortez parking garage, on the North Side of the street dates back to 1919.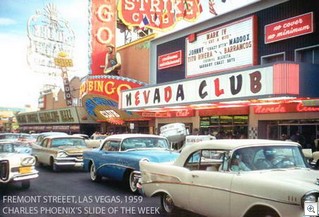 Along lower Fremont spectacular motels dot the landscape. Many of these classic structures are gravely endangered and already many of their signs have been painted over or outright destroyed by overzealous owners attempting to "spruce-up" the properties. The Alicia Motel is a prime example of property owners not realizing the value of these historic signs or the value of using a sign company to refurbish them. When I was curator of the Neon Museum we fought hard for the Lucky Motel sign on Fremont Street only to be out-flanked by a local magician wanting the sign to decorate his living room.
As you continue driving East on Fremont past Charleston, Fremont becomes Boulder Highway. Along boulder highway there is collection of mid-century buildings; motels like the Lucky Cuss and old auto dealerships can still be seen. The former Oldsmobile dealership with its winged roof line and the slanted oval roof of the Chrysler dealership are classic examples. These buildings are also in danger of being demolished. Sadly precedent has already been set in the area after the closing and subsequent demolition of the famed Green Shack. Luckily the original sign resides in the Neon Museum Boneyard. Enjoy the drive… -Brian Paco Alvarez
(note: Thank you so much to Brian for this reader contribution! Brian Paco Alvarez is the curator of the Las Vegas News Bureau, a life time resident of the Downtown Las Vegas area, a great friend, and in incredible resource for historical content, current events, and 'super-deep inside scoops' on everything Las Vegas. We hope to see a few minor metaphorical road blocks cleared up soon so you can read his amazing insights on a more regular basis! – Steve Christmas)
Photo Attribution to A Very Interesting blogger and modernist Charles Phoenix
.