Thursday, Oct. 4th Another Edition of Untold Stories at the Las Vegas Springs Preserve: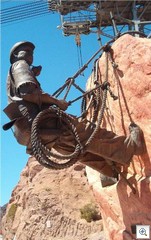 In 1931, work began on the engineering marvel of its day, Boulder Dam. Engineers had never built a dam of this size. Skeptics said it would never work.
But in the depths of the Depression, the possibility of a steady wage promised hope for thousands of men. Tens of thousands began moving into Las Vegas hoping for work on the Boulder Dam project.
George Foley, Sr. remembers that "For every job on the Dam, ten men came here to get it.? Those who couldn?t find work, Gail Andress remembers, "lived under the mesquite bushes and in a Hooverville down by the cemetery.?
Despite sweltering heat and primitive conditions, men packed up their families and brought them to Black Canyon where the temperatures reached 120 degrees in the shade. There was no electricity, no running water, no air conditioning in the squatter camps that sprang up across the desert. Families lived in tents, lean-tos, and cardboard shacks, surviving the hottest summer on record with ingenuity and courage.
Untold Stories is pleased to announce that on Thursday, Oct. 4th we look back at that era.
Building Boulder Dam
A Roundtable Program
Thursday, Oct. 4th
6:30 pm Reception
7:00 pm Discussion
Roundtable participants (as schedule and health permits):
Dam Historian, Dennis McBride
Dam Construction Worker Lee Tilman
Las Vegas Resident Gale Andress
Admission Price is $12.
We Hope to see you there for this once in a lifetime opportunity!
We grabbed the photo of "High Scaler" from the artist's website at SteveLiguori.com
More about Las Vegas History at ClassicLasVegas.com
.