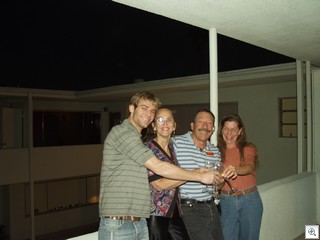 Well, Pam's finally moved into the Rexford, and just about as happy as any client I've ever had. We did a champaign and pizza toast last night, and everyone there lived within a mile. We're ALL urban core lifestyle residents. Steve and Paco each live in L'Octaine, I'm off Oakey and 8th, Brigid's on 6th, Mary's on Bracken, John's on Bonita.
And the best surprise of all, was the missing glass (not plastic) sliding doors for above the GE All-In-One Kitchen Unit were behind the fridge, and not lost at all!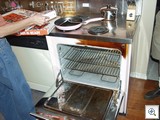 And here's 6 hours worth of progress getting the oven clean. Between the sliding doors, and the cleaned up oven, it now seems as if Pam will be able to fully restore and keep the kitchen. YEAH! Pam left the top left corner to show us what it all used to look like. Paco's going to shoot me for publishing this picture, but it was the best shot of the kitchen, showing the all in one and the cabinets and vintage pulls.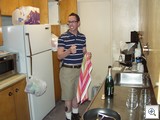 I'm using the occasion to do a RERUN of the Day, and give you links to 2 other posts we did in the past on the Rexford.
Our Post From August 19th post on "The Rexford"
And Here's the Re-Run: From July 10th 2007
So it turns out, when I actually got into one of the 22 REXFORD Coop units yesterday, I discovered that these were what were installed in the kitchens when they were built in 1957.
All in one with range, oven, dishwasher, sink, storage, backsplash plugs and cords for the blender and toaster and everything else….all with a one piece stainless steel counter. WOW!
The one in the unit that's for sale is not in good shape, but the clients that are considering it are probably sitting at the computer right now figuring out if they can get parts and pieces to restore it. The other unit that we saw was complete with the translucent plastic slider panels above the counter top, and though their dishwasher component had been replaced, they used the front panel from it to create a matching end cap to the side of the whole unit. I didn't get a picture of it, unfortunately.
If you want a great look into the world of the POST WAR HOUSING BOOM, this site will hook you for an hour or 2. Have fun!
.