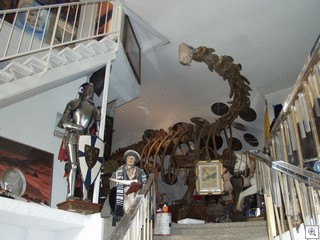 Every year, Dr. Lonnie Hammargren, our former Lt. Governor, University Regent, retired neurosurgeon and obsessive collector, opens his home to the public. It's totally a private collection that is museum worthy. He calls his little collection "The Hammargren Home Of Nevada History"This years event will be Sunday, October 28th from 1 to 5pm. This amazing display is located in the Paradise Crest (a true "leave it to Beaver" neighborhood in Vintage Vegas if there ever was one). The other post we did on Paradise Crest is HERE From Flamingo and Sandhill, go south to the first street on the right and start looking for a parking place.
I've volunteered to be a docent and tour guide for the event, so you could come out and say hi to me as well.
I was privileged to get a guided tour along with the Board of Classic Las Vegas, last week. I took lots of pictures, and am publishing some of them here to give you a VERY small taste of what's in store for you at this annual event. Lots of other pictures are in the various links above, also.
The event is free, but donations for Classic Las Vegas are welcome.
.