The Resurrection Of "The History Hunt"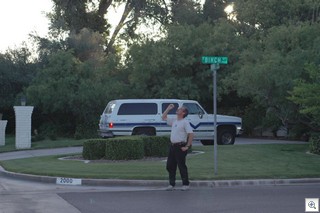 This last summer, as the first publicity stunt of the new VeryVintageVegas, we created a contest where you had to drive thru many of the fabulous and not so fabulous Vintage Vegas neighborhoods. It never dawned on me, till I got Terri's email this morning, that we should keep the driving directions front and center as a guide for new readers and newcomers to Las Vegas. Maybe some of you, as Terri did yesterday, will want to do it even if there's no longer a prize attached to it.
Pictured above is one of the entrants at the corner of Birch and Bannie, in Scotch 80's. A very important person lives there, and we had a bonus prize for any entrant who did a little extra research to find out who it is.
Just to make it fun, we'll give a $25. gift card to Rejavenate, one of our favorite coffee and art hangouts to the first person who emails me to tell us who lives there. (Prior History Hunt participants are not eligible).