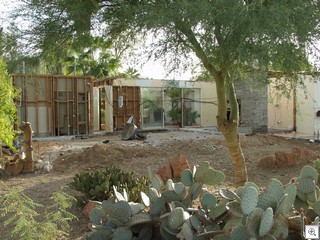 But it turns out its not a complete demolition. I spoke to the owner, Tom, who's been battling the city planners for 2 years to get permits to tear off the majority of the home and rebuild from scratch. He'll be adding 800 feet, and keeping the home in character with the neighborhood.
I started getting calls over the weekend, and became determined to find out what was happening. The neighbors who called me were worried that a complete demolition would lead to a suburban style home that would be a sore thumb in this otherwise charming neighborhood.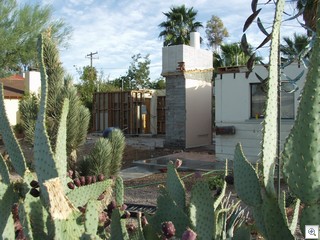 If you see something that needs exploring, or that the other readers of VVV would want to know about, give me a call or send an email.
From April 5, 2007 on the old web site:
I Stalked A Roadrunner Through Radlick Park – Beep Beep
I spent 20 minutes stalking/following/chasing an extremely rare sighting yesterday! A roadrunner in Radlick Park (Ralwick Park is just 20 homes built in 1953 and 1954. You can find it in the 700 blocks of Oakey, Bracken and Griffith).
Now I'm officially paparazzi. Clicking on any picture will give you a blow up of it.
Tags: roadrunner, demolition
.