Our friend cultural historian and downtown neighbor Brian Paco Alvarez filled our inbox today with a lot of different topics, so I'm lumping them all into one big catch-all post. Click away!
Historical Connection Fall Newsletter from the Las Vegas Historic Preservation Committee
Preservation Association Of Clark County's Fall Newsletter
Las Vegas Sun Article By Kristen Peterson on the Arts District's Gateway Monuments
Note, there's photos above the article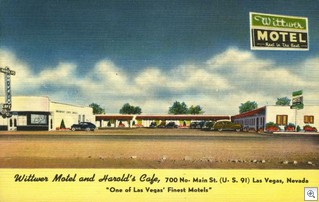 He also sent a postcard from his personal collection.
This is the Wittwer Motel, one of the motor courts of which we've lost way too many.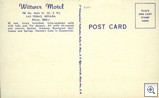 And finally, a note from Paco about the Garden Of Love Wedding Chapel: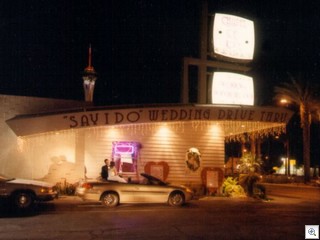 Hello Friends of the Mid-Century,
As many of you have heard the Garden of Love Wedding Chapel has had its license revoked as of last night by an act of the City Council. This should be a red flag alerting us that this building is now endangered of being sold and possibly being demolished. As you know the building is a classic mid-century structure as is its iconic sign with its tall spire. We need to keep a vigilant eye on this building since it is one of the few remaining buildings like it on Las Vegas Boulevard.
With Regards – Brian Paco…
.