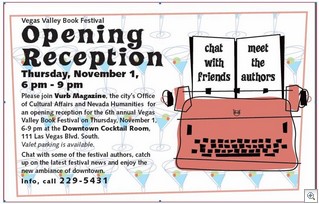 We invite you to join us at the Opening Reception this Thursday 10/1 6–9 PM at the Downtown Cocktail Room.
Here's The original press release and information on the various events.
Authors, poets, journalists, and artists will participate in the sixth annual Vegas Valley Book Festival, on Friday and Saturday, Nov. 2 and 3. The two day event, sponsored by the city of Las Vegas Office of Cultural Affairs and Nevada Humanities, includes a full schedule of readings, book signings, panel discussions, children's programming, writing workshops, and spoken word performances, concluding with a closing keynote address by acclaimed author Sarah Vowell, sponsored by the Las Vegas Review Journal.
Sarah Vowell has published four bestselling books and is well known for her contributions on KNPR's This American Life.Vowell's book Assassination Vacation is hilarious and haunting road trip to tourist sites devoted to murders of past presidents. She is also the author of the essay collections The Partly Cloudy Patriot and Take the Cannoli, and Radio On, a diary of a year spent listening to American radio. The Boston Globe declares: "Vowell is, at heart, a storyteller. Her gift is one of cosmic inclusion – allowing the natural collision of intellect and personality, rigorous research generational quirks."
This year the festival's theme of celebrating the written, spoken, and illustrated word will follow six program tracks; Contemporary Literature (fiction, humor, commentary, memoir), Literature of Las Vegas, Children's Literature –Target Children's Book Festival, Literature of Travel, The Literature of Place, and Poetry. Also, the festival will be expanding downtown by offering programming at several historic locations and various districts of the city.
Two days of sessions will be held at the historic El Cortez with local and nationally recognized authors including: pop journalist, author and Esquire columnist Chuck Klosterman; comics creator Kim Deitch; architecture critic Alan Hess; urban and media historian Norman Klein; journalist and preservationist Chris Nichols; and travel writer Tom Miller.
Friday evening the book festival takes center stage at First Friday in the Arts District with a night of literary themed events hosted by local poet, Dayvid Figler. A book festival stage at California Street will host a spoken word band/and readings throughout the evening including; Mayor Oscar B. Goodman reading Haiku. Other First Friday events include: local authors, book signings, and used book vendors.
From noon – 4 p.m. the children's portion of the festival takes place with the second annual Target Children's Book Festival at the Historic Fifth Street School in Centennial Plaza, located at Lewis Avenue and Fourth Street. This event includes free books; children's authors, reading and signing books; celebrity book readings in The Big Red Chair; performing arts events on the mobile stage; book makers; costumed characters; face painting; food vendors with free refreshments while supplies last; balloon artists; book exchange; and an arts and crafts tent.
This year, the festival has a number of new events, including a literacy project with Las Vegas Academy featuring a collaborative work by students on themes related to the old Las Vegas High School. There will also be two literary events that pilot the festival, the Las Vegas Literary tour and readings will visit famous and infamous literary sites in and around Las Vegas and EAT will showcase the literature of the Las Vegas table.
The festival concludes with Sarah Vowell speaking at the Las Vegas Academy at 7 p.m. followed by a closing reception at the Morelli house at 9 p.m.
This program is provided by Nevada Humanities and the Office of Cultural Affairs of the city of Las Vegas Office of Government and Community Affairs. For questions related to these events call 229-5431.
Tags: vurb+magazine, vegas+valley+book+festival, las+vegas+office+of+cultural+affairs, nevada+humanities, downtown+cocktail+room, uncle+jack.