A hat tip to Paco. The announcement is only 5 minutes old!
Implosion of the Frontier Hotel & Casino in Las Vegas to Make Way for
Internationally Recognized Brand, The Plaza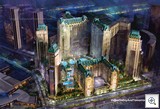 DATE:
Tuesday, November 13, 2007

WHAT:
A longtime icon of the Las Vegas Strip, the Frontier Hotel & Casino will be imploded to mark the beginning of the new home of the internationally recognized brand, The Plaza. Elad Group and IDB Group, a joint venture on The Plaza, will bring the elegance and luxuriousness of the brand to the Las Vegas gaming and hospitality market. The multi-billion dollar project is set to open in late 2011.

WHO:
Isaac Tshuva, Owner of ELAD Group; Nochi Dankner, Chairman of the Board and CEO of IDB Group; Miki Naftali, President & CEO of ELAD Group and Daniel Wade, Chief Operating Officer of ELAD IDB Las Vegas, LLC

WHEN:
Tuesday, November 13, 2007
Implosion to take place promptly at 2:30 a.m. PST

.