As I mentioned in part one, the first leg of the tour took us to some of the terrific motor hotels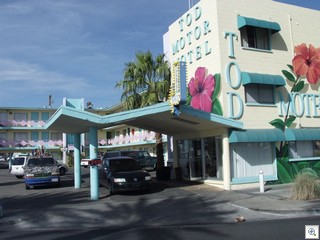 of the mid 1900's. Las Vegas still has a huge inventory of existing ones. The preservationists among us would like to see them saved.
The Todd Motor Motel is one of the best examples of where the owners have embraced what they have and are proud of it instead of embarrassed by them. The pictures I took from the open air bus  didn't come out very well, so I went back on Sunday to grab a better shot.
Notice, the folded roof carport, the diamond shaped railings, and the wonderful colors.
You'll also see that I found the "urban landscape" van in the parking lot. I got some great shots of it in the daylight. All the previous pictures I had were done at night. He's added dozens of new buildings since I saw it last.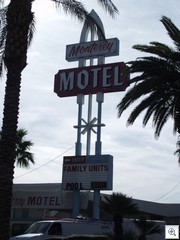 A lot of the discussion was about the terrific signage that was a major design element of the modernist commercial school. Also on Las Vegas Blvd, MM pointed out the space ship design on the Monterey Motel Sign. Take a drive for yourself along Fremont/Boulder Highway, and Las Vegas Blvd. You'll see many great examples that still remain of the neon monuments of Vintage Vegas
Also, on the same stretch of the strip between Charleston and Sahara, you'll find the recently closed "Garden of Love" wedding chapel. This terrific example of mid-mod restaurant design could become endangered now. It's definitely on our watch list.
If you're interested in helping to save these and other endangered examples of modernism, then check out the Atomic Age Alliance. AAA has published a book that was the basis for the tour we took. It's a fundraising vehicle for group, and I highly recommend it. It's called  Mondo Vegas, Touring Mid Century Modern Las Vegas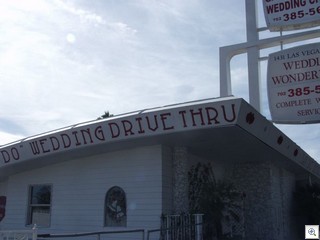 and it will help you find all the great buildings and neighborhoods.
Tags: todd+motor+motel, monterey+motel, mondo+vegas, atomic+age+alliance
.