Edward Durell Stone – Modernist Architect Given Credit For Use Of Decorative Block Facings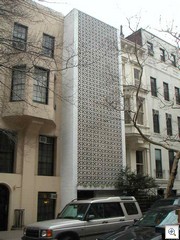 Our tour the other night and the subsequent discussions of the decorative block designs led me to do some homework on Edward Durell Stone.
His NYC Brownstone is one his most famous and most hated works. There's some very interesting back story in this informative post from NYC-architecture.com
They use the term "Breeze Block" to describe the blocks. I like that term and may start using it myself. MaryMargaret used the term, named after Stone himself,  "Stone Screens". Always in the past I've referred to them as "decorative block".
Regardless of the name, I'm still obsessed with them.