The Moonlight Mid Mod Bus Tour – Part 4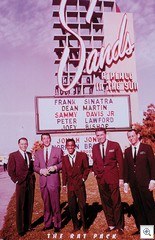 It took something REALLY exciting like a moonlight bus tour of Modernist Las Vegas to get me onto the strip on a Friday Night. But there we were looking for the original site of one of the preeminate photos of all time (as far as Vintage Las Vegas is concerned).
MM figured out from satellite photos of then and now exactly where the photo was taken. Well, exactly within about 10 feet. So that's where we took the group photo of everyone on the bus tour.
The spot is now the front sidewalk of the Venetian.
And that's the first time in 20 years anyone's managed to make me go on the strip on a weekend night.