Text & photos courtesy of: Brian Paco Alvarez
The Clark County Court House
Following the tradition of other county court houses in Nevada the original and elegant Clark County Court House stood as a piece of civic pride in Las Vegas. It was designed by prominent Nevada architect Frederick J. DeLongchamps (1882-1969) whose record of architectural achievements can be viewed at the University of Nevada Reno Library Special Collections. The court house was designed in the Spanish Colonial Revival style and situated in the center of the courthouse square on Second and Carson. When the original city grid was conceived the courthouse square was set aside by the Salt Lake, San Pedro and Los Angeles Railroad to be used for civic uses. The court house was completed in 1914.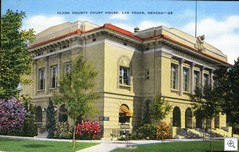 In 1958 an addition was added to the courthouse complex. Designed by local architects Walter Zick and Harris Sharp the building was designed in the International Style and completed in glass, concrete and steel elements. In 1967 the original DeLongchamps court house was demolished. Today all court house activities have been centralized at the new Regional Justice Center. The Zick and Sharp court house sits empty and is in danger of being demolished.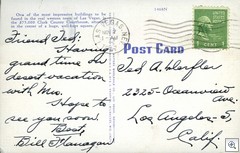 Postcard from the Collection of Brian Paco Alvarez
For more information regarding Frederick DeLongChamps please visit UNR Library Special Collections at http://www.library.unr.edu/specoll/mss/NC1215.html
.