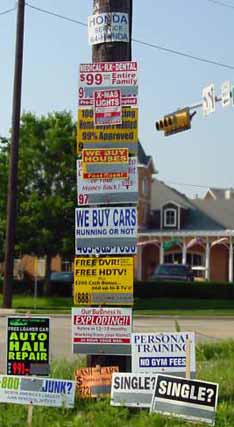 There's another pervasive form of SPAM that I had never thought of as Spam. But it's just as annoying, distracting, ugly and illegal. So I guess the word Spam is appropriate.
I got a call yesterday from a man in Dallas Texas. He had googled "Code Enforcement Las Vegas" and found my post on 20 Frequently Asked Questions From Las Vegas Code Enforcement. He belongs to a group that's purpose is to get rid of STREET SPAM!
He says that Las Vegas is the Street Spam capital of the world, and that the vast majority of it is SCAM SPAN. I doubt you'll make 5000 a month working from home if you just call this 800 number.
It turns out theres a whole internet organization called CAUSS – Citizens Against Ugly Street Spam
I've pulled many a sign off of stop signs and street light poles when I find them in actual neighborhoods, but I've never done anything about them when they're all up an down streets like Charleston, and Desert Inn and Eastern and Rancho and Valley View.
I'm not going to get officially involved as there's too much on my plate as it is, but I thought perhaps some of you might like to take on a new civic beautification project .
From the 20 Questions
17 -Can I post signs on utility poles and/or other devices in public right-of-ways? No, signs shall not be placed on public property, right-of-way, utility pole or device. All signs are required to have a sign permit issued from the Planning Department 229-6301.
.