Obviously, there's Thanksgiving, and we wish you all a safe happy holiday.
Below the fold is information on the Samuel Beckett Film Festival, Bank Owned Foreclosures Auctions, Downtown Neighbors Holiday party, Maude Frazier Hall Preservation Efforts, and The Las Vegas Marathon and the St. Louis Avenued Dedication Ceremony.
If you have an event, organization or whatever that you'd like us to help promote, just send us an email, or give us a call.
St. Louis Ave Dedication Ceremony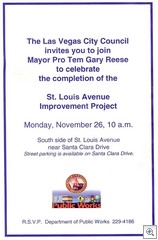 The Las Vegas City Council invites you to attend the dedication ceremony for the completion of the St. Louis Avenue Improvement Project.
Monday, November 26, 2007 10 AM
St. Louis Avenue and Santa Clara, just east of Paradise Ave.
RSVP to Department of Public Works 229–4186
The FIFTH Annual Samuel Beckett Festival, Beginning Nov. 21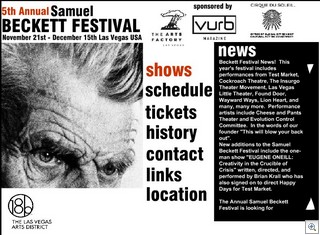 The Annual Samuel Beckett Festival in Las Vegas, NV is a celebration of Samuel Beckett, his life, his work, and the work inspired by the absurd theater movement he pushed into the mainstream. If you are into dark, comedic works of moving art then you have found your new home! Dozens of performances, plays, and presentations from theater companies throughout Las Vegas and across the country will be presented from November 21st – December 15th, 2007. You aren't likely to see anything like this anywhere else and it's right in your back yard! This year's festivities are rounded out by an opening night reception, various after-hour parties and more absurd art than you can shake a stick at (in case you are into shaking sticks).
If you haven't seen any of these thrill seeking groups before, we urge you to leave your cubicle, couch, or armchair now and proceed quickly to your nearest ticket outlet. We implore you to buy your tickets now, not for any particular financial gain, but rather our belief that these shows are the most important and entertaining performances you will see….ever. If there is a show that you find difficult to view due to graphic language, violence, or abstract notions of time and space, we suggest that you see these performances over and over again to acclimate your notions of reality to those of the authors involved.
For your convenience, tickets are available online at www.thebeckettfestival.com and by telephone at 702.736.4313.
Open Houses begin for the REPO Auctions:
If you're even the least bit interested in how to buy bank owned foreclosure property for really cheap prices, you should read my Sunday Post.Part One of the Series on Foreclosed properties was published on Saturday.
New Hearings Regarding Yucca Mountain:
On Monday, December 3, 2007, the Department of Energy (DOE) will hold a public hearing about the proposed nuclear waste site at Yucca Mountain at Cashman Center, 850 Las Vegas Blvd from 4:00pm to 7:00pm. We Nevadans will have the chance to tell the DOE once again that we do not want this toxic, deadly substance transported across our state and buried a mere 90 miles from Las Vegas. Your input is critical in this process and I would urge you to make your voice heard at this important hearing. If you cannot attend the public hearing you can submit your comments in writing by January 10, 2008, to:
EIS Office, U.S. Department of Energy
Office of Civilian Radioactive Waste Management
1551 Hillshire Drive
Las Vegas, NV 89134
by fax: 1-800-967-0739 or via the Internet: http://www.ocrwm.doe.gov
Downtown Neighbors Holiday Meet and Greet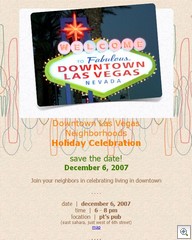 Downtown Neighbors Meet and Greet – Anyone who lives downtown is invited. No host drinks and food at PT's Pub on Sahara at 6th Street. Thursday December 6, 6–8 pm.
Lance Kirk, the President of the West Circle Neighborhood Association is responsible for planning this.
Stop in and meet some Neighbors.
County Commission Debates Resolution Recommending Preservation of Maude Frazier Hall
Tuesday 11/20 07 9am at The County Commission Chambers 500 N. Grand Central Parkway
Las Vegas Marathon December 2
.