By Brian Paco Alvarez
As a curator and urban historian I am constantly looking up new sources of information about my native home. As Steve and Jack can tell you Paco has books. I have a library of over 1000 volumes and it is increasing with every paycheck. Though some say you are not well read until you have read at least 10,000 books I am well on my way.
For those of you who have recently moved to Vintage Vegas I have compiled a few great books and reviews to help you learn about your new home and the community you live in and yes, Las Vegas has history!
Happy readings!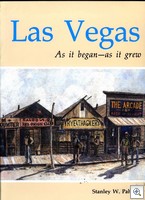 Las Vegas – As it Began as it Grew
By Stanley W. Paher
Nevada Publications
1971
This is by far the quintessential history of Las Vegas from the very beginning. Any student of Las Vegas history must read this treatise. I was introduced to this book in my early years at UNLV. Stanley Paher who resides in Reno, was the first author to publish about Las Vegas. The book is filled with fascinating history and great illustrations by one of Las Vegas' great artists Roy Purcell.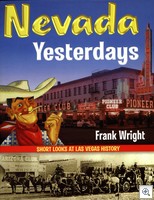 Nevada Yesterdays – Short Looks at Las Vegas History
By Frank Wright
Stephens Press
2005
Frank Wright was the Curator of Education at the Nevada State Museum and Historical Society for over 30 years. His passion for history permeates this book and I am sure you will enjoy it. Frank was one of my mentors when I was at UNLV. He passed from the dimension on April 25, 2003. He is survived by his widow Dorothy Wright who also has a passion for history and completed the book for Frank. Dorothy is on the board of the Neon Museum.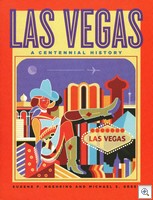 Las Vegas – A Centennial History
By Eugene Moering and Michael Green
University of Nevada Press
2005
Written by two of Las Vegas' most eminent historians this book traces the history of Las Vegas from the days of the Paiutes to the history of the Strip and beyond. Completed just in time for Las Vegas' centennial its candid approach to our community's history makes it an easy read and very entertaining.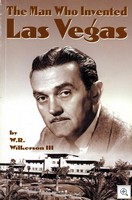 The Man Who Invented Las Vegas – The Story of Billy Wilkerson
By William R. Wilkerson III
Ciro's Books
2000
If many of you still believe that Bugsy Siegel invented Las Vegas you are absolutely, unequivocally mistaken. The truth of the matter is that modern Las Vegas was really the brain child of Billy Wilkerson of Los Angeles. Unfortunately popular belief still attributes the Flamingo Hotel with Bugsy. Yes Bugsy was involved with the Flamingo but not before he literally stole the project from Wilkerson. This book written by Wilkerson's son explains the truth behind his father in a heartfelt story of the enormous accomplishments his father did in Los Angeles and beyond.
By Robert Venturi, Denise Scott Brown and Steve Izenour
The MIT Press – Massachusetts Institute of Technology
1972
For those interested in Las Vegas architecture this is the book for you. It was the very first complete study of Las Vegas architecture undertaken by a team of Architects and graduate student from Yale University. It traces back the history of roadside architecture and how Las Vegas exploited this vernacular to create the palaces that we see today on the world Famous Strip.
– Huge thanks, once again to an amazing cultural/urban/historical asset to our blog & great friend, Mr. Brian Paco Alvarez!  We've added links to amazon.com for each book should you wish to attempt catching up with the Paco Library (It's huge, I've seen it). ~Steve
Tags: las+vegas+history, brian+paco+alvarez, vintage+vegas
.