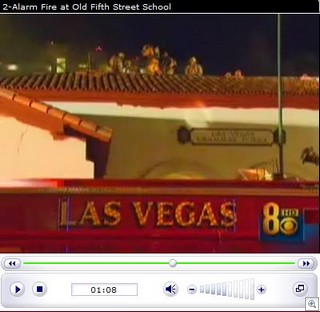 A 2 alarm fire damaged roof timbers and interior work that had already been completed during restoration of the 70 year old "Fifth Street Grammar School". The building is one of the oldest buildings in Las Vegas and was supposed to open by next summer as a cultural center to be shared by the city and UNLV.
Preserving and saving our historic buildings and vintage neighborhoods are 2 of the primary goals of VeryVintageVegas. Lately, we've devoted a lot of our blog time and energy to projects like this school, and the Maude Frazier Hall. We support and promote other preservation groups such as the Atomic Age Alliance, and Friends of Classic Las Vegas. We are heart broken over this fire, and I'm sure I speak for everyone who's interested in saving our heritage.
We'll be all over the city to make sure that the restoration is completed and the building is saved.
Click on the photo to see the Channel 8 coverage from last night.
.