I had an awesome time (did we really not leave the awesome Swank Pad until almost 11?!) Anyone in the Las Vegas area reading this blog who hasn't yet come out to hang with the Atomic Age Alliance and just appreciate cool architecture, great-natured & diversely eclectic people, & the mid-century lifestyle… Get out & hang with some of the nicest people I've seen in one room downtown!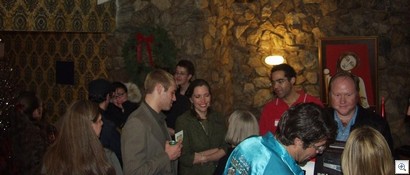 There was a cool re-cap of the Alliance's growth & accomplishments over the last year and a projection of all the great projects & cool stuff you need to know more about in the upcoming year. Then, of course there was lots of food & wine. I discovered 'mold wine' whoa. These people know how to party. Such a diverse crowd of teachers, writers, lawyers, musicians, tech-gurus, anthropologists, radio personalities & just about everything else you could think of left nothing to be desired in the way of conversation. I'll be back for the January meeting, I hope to see you there!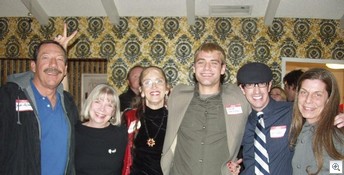 Susan's not allowed to be in anymore pictures (we're kidding Susan), & I'm not allowed to tell you why these pictures are dimensionally challenged. Let's just leave it we all had an amazing time, & can't wait to join Mary Margaret & Cary Stratton, Josh & the rest of the AAA Crew again soon! Big huge thanks go out to Scott & Heidi for hosting the shindig, love the place!
.