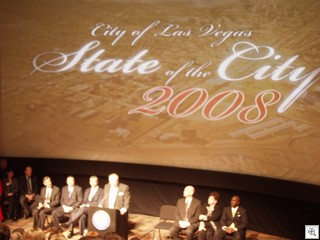 The Springs Preserve was the host of last night's annual "State of The City" Speech by Mayor Oscar Goodman. The overflow crowd was about 400 people, and the entire event was broadcast live on the city's KCLV Channel 2. It will be repeated on Thursday at 3pm if you missed it.
Besides the usual bragging about the progress of Union Park, and the redevelopment of Downtown, the Mayor spent a lot of time on the sustainability issues that will allow us to continue to grow and still provide the services that we demand from our government. A lot was said about new LIED certified "green" buildings such as the Springs Preserve, the Molaski/Water District Building, the renewable energy fleet of city vehicles, and many other exciting efforts of the city.
Several awards were given during the event, including a new one for historic preservation. The Junior League and it's restoration of the Morelli House was the first ever recipient. We were very pleased to hear the Mayor pay homage (and we hope not just lip service) to our efforts to preserve or restore our classic vintage homes, neighborhoods and architecture.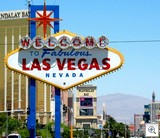 Also, a lifetime achievement award was given to Betty Whitehead Willis, who not only designed the official seal for the city, but also the most photographed sign in the world. Brian Paco Alvarez, our VVV cultural historian, accompanied her to the ceremony.
What surprised me most was the strongly worded message to the Governor and Legislature about unfunded mandates, and budget cuts. "Our Tax System is broken" and must get fixed, said the Mayor. Who pays taxes, and how much they pay, and in what form must be addressed. The Cities and County are mandated to deliver the services, but the tax revenues go to Carson City first, where they're always subject to the whims of the lobbiests, legislature, and economy.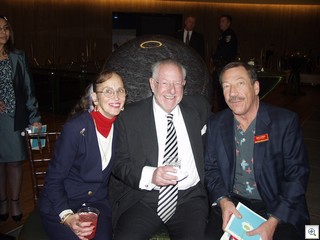 At the reception, we had a brief moment to say hello to the mayor, and finally after all these years, I managed to get my picture taken with him and our own Mary Joy Alderman, the newly appointed VVV fashion editor. (be sure to roll your mouse over the photo to read the caption)
Mary Joy helped me pick out the 1960's rayon shirt from the Diane Bush vintage clothing collection.
We spoke with Steve Sebelius, the prolific reporter and blogger for City Life Magazine, Congresswoman Shelly Berkely, Mayor ProTem Gary Reese, several of the great folks that were in the Citizens Leadership Academy with me.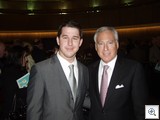 Trinity Schlottman, on the left, the contractor who's building the Urban Lofts introduced me to his boss, Larry Davis, who's known as the "Tin Man". He's a legend in the world of in fill redevelopment due to his similar projects in Houston, Dallas, Atlanta and now Las Vegas.