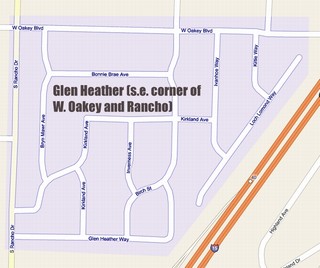 A little before Scotch 80's came another neighborhood at the South East corner of Oakey and Rancho. It was called Glen Heather. There's a big mix of styles, but the most impressive thing is the number and size of the trees. Huge evergreen abound, as well as lots of Mulberry, Olive and of course Palms of every type.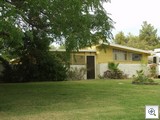 The earliest homes of the 204 total were built in 1955 and 1956. They were hard core mid-mod! I'm not sure what happened that no homes were built for the next 3 years, but there was a group built in 1959 and then another 3 year gap, and 1962 and 1963 they finished out then neighborhood.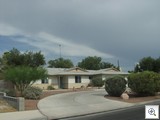 The later homes were mostly Cinderella Ranch, rambler ranches and regular ranches, instead of the earlier mid century modern. In the 70's and 80's we started to get the assorted add-ons, expansions, conversions and other things people have done over the years, just as in most of the Vintage Vegas Neighborhoods.

Always, they been considered the little brother of McNeil and the nearby distant nephew of the Scotch 80's. A few of the homes are severely noise challenged by the adjacent I-15, but most of the homes are as peaceful as you'd hope.