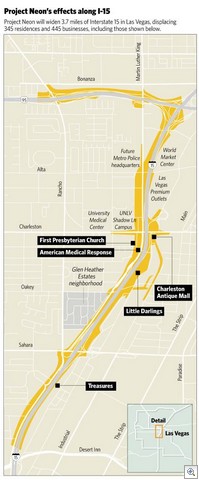 One of the great little neighborhoods in Vintage Vegas is Glen Heather. It's located in the Southeast corner of Rancho Drive and Oakey Avenue, just west of the I-15 freeway. Glen Heather can be accessed via side streets off of both Rancho and Oakey.
It's a charming neighborhood with a mixture of "Desert Modern" and "Ranch Modern" homes. All are on large lots and the entire neighborhood is dominated by huge trees. It's a remarkably stable neighborhood, and has had very few foreclosures over the last few years. There's currently only one home available (at $329k), and 4 in contract.
Some of the residents of Glen Heather are being threatened with an eminent domain taking for the I-15 Freeway expansion. The Project is called "Project Neon". The entire huge project includes widening of I-15 from the Spaghetti Bowl to Sahara, as well as a complete new interchange for Charleston. I'd stayed up to date on pending takings for the Charleston Blvd Intersection project which threatened some of the homes just south of Charleston and West of MLK, but wasn't aware till yesterday that Glen Heather was going to be impacted by the widening of I-15.
The Las Vegas Sun did a feature story yesterday about how the affected residents of Glen Heather are in limbo. Unlike efforts to expand casino and commercial districts into the historic neighborhoods, I don't think there's any way to stop a major public works project that will have such a huge impact on future traffic.