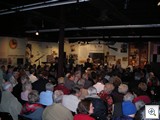 We were so pleased with the huge turn out for Classic Las Vegas and the Nevada History Museums book launch of Geoff Schumacher's new book "Howard Hughes: Power, Parnoia and Palace Intrigue."
Seating was set up for 200, and even after they emptied the offices for more chairs, there were still 40 people standing.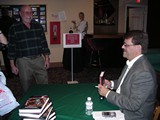 Many of our most faithful readers were in attendance, and we met several readers for the first time. If any of them care to put something in the comments that they learned, I'd really appreciate it. (Hint Hint, Pam, Steven, Paco, Lynn, Judy, Phil)
We'll always keep you posted on upcoming events such as this. Yes, our Vintage Homes, & Historic Neighborhoods are two of our key topics here at Very Vintage Vegas, but Las Vegas History and Urban Living are the other two.