Susan Dean was the VERY FIRST out of town person to find VeryVintageVegas.
It's been a while since Susan wrote of her adventure in selling a 50's modernist home in Spokane, moving to Las Vegas, starting a new teaching job, and settling into the "urban Las Vegas lifestyle" that she always dreamed of.
It's easy, and well worth meeting Susan, as she's typically at every art opening, history related organization meeting, special event, and just about every other aspect of urban living that we promote at VeryVintageVegas.
If you're relatively new to VVV, you can catch up on Susan's Saga. There were 13 chapters plus some bonus footage published on our old blog and you can read it all here.
Here's an excerpt from the first installment: (from June 30, 07)
note from unclejack: here's the back story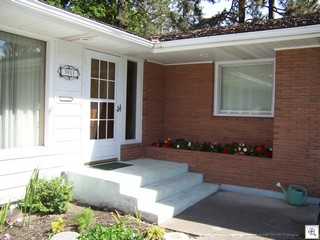 Susan and Steve live in a wonderful mid-mod rancher in Spokane, and on Wednesday, she accepted a teaching position in LV. (yea! one more slot filled). They're preparing their home for sale with advice from me and from an agent who "gets it" about vintage Spokane.
Susan found VVV on a google search about 2 months ago, and we've been emailing while the CCSD apps and interviews etc went on and on. But now she'll be here on 7/12 to start looking for a fun Vintage Vegas home while Steve finishes the house preparations, with a plan to go on the market mid July.
Maybe we'll continue to tell her story in soap opera installments during the next few months. Haven't met her, but I know it will be fun to help her get moved here.
I've asked her for a photo of the home she's selling, I figured my readers would want to see it as much as I do.
And now: we present Susan's version of the last 6 months in Vintage Las Vegas:
The Susan Saga Continues – Chapter 14
I can't even believe I've been here six months! Las Vegas is now home, and I go visit Spokane. So much has happened, I don't know where to begin. The best thing so far has been the amazing group of people I have met. I have been welcomed with open arms and have made life-long, dear friends. Mary Joy, Pam, and I are now "Jack's Angels"! There is never a dull moment with Paco and Steve! Michael and the whole Downtown Cocktail Club crew are all fascinating people. Mary Margaret and Kerry Stratton, Josh, and the other members of the Atomic Age Alliance all have the best stories to share (and host the best events)! Lynn Zook has led me to fascinating events and people. All this thanks to Uncle Jack, the dearest person in Las Vegas, and J.J..
I have attended and participated in so many fabulous events, from the lighting of the neon lights at the Fremont Street Entertainment District to the variety show at the Aruba Showroom last night. I have grown to so appreciate the urban core and all it is becoming and represents. And, of course, I've had lots of visitors to share this with: my husband, Steve, my son from California, John, my best friend Nancy, my sister, Mary, from Texas, and my mother-in-law from Phoenix have all come to visit and share my studio apartment that's half the size of the living room in Spokane! I have, in turn, shared with them all I have grown to love about Las Vegas.
Oh, and I work, too! I've been putting in at least fifty-hour weeks and often don't get home until 6:00, only to have more school stuff to do at home. I work at a great school, Mack Middle School, with a wonderful administration and staff. The kids have been a challenge at times, but just tonight I read a journal entry by one of my students who said that "Mrs. Dean is the best. She cares." This from a girl that I have repeatedly battled for her attention and productivity! Wow! I guess that's why I teach!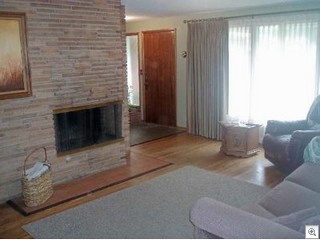 On the house front: Steve is still up in Spokane with Mandee the basset hound. He has been doing a great job of keeping the house ready "for show." We didn't get it listed until the first of October, due to the bathroom redo, and finally now have two very interested parties despite the four-foot snow banks in front of the house. This has been the snowiest winter for many years, and you know I sold the snow-blower at the garage sale in August because "We're moving to Las Vegas and certainly won't need it there!" Poor Steve has been shoveling like crazy for two months! I've flown up there every three-day weekend and, I'll admit, this is getting old! Hopefully, we'll get it sold very soon, and Steve can come pick out one of the treasures I have found with Jack!
The urban core is the best, with its character and historical significance. Today I think we found the best one, a great Cinderella rancher on Bracken just down the street from Mary Joy! We're still thinking a townhouse would be best– no yard work and somebody else maintains the pool that we can use whenever we want. There is a beautiful Sunrise Villa that I think is still available. And what a good time to buy! Interest rates are down (We're pre-approved, thanks to Steve Christmas!) and prices are not going up here any time soon. I think Las Vegas was planning on our move! Once anything new happens, I promise I will be better at keeping up the Saga!