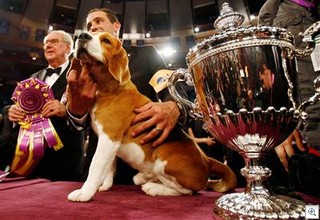 Every beagle in America and every beagle lover is ecstactic.
But I will say this before anyone runs out and buys a beagle.
A leather jacket, 2 of the kitchen cabinets, 11 shoes, a scratched up front door and a whole lot more were some of the extra costs of getting a beagle puppy to finally learn to behave.
"Beagle Bayley Better Behave" which is Bayleys official AKC name was the toughest dog to break I've ever had. But he certainly could have been a contender if I had ever wanted to get into the dog show game. Don't say I didn't warn you.