There's 3 things you can do with the classic 50's or 60's homes of Las Vegas
First, you can keep it all original, and relish the authenticity.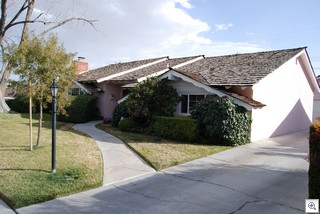 We've been selected to represent the sellers and market one that falls into this category. 1720 Bracken is the most authentic, untouched, (though much loved) Cinderella Ranch we've ever seen.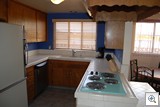 From the classic pink tile bathrooms, to the original turquoise oven and stovetop, to the scrolled facia boards and kitchen cabinets, it's all original. Even the shake roof was replaced in 1992 and should have 30 more years of life in it.

All of the photos of this pristinely preserved classic can be seen in the gallery which is in our left column.
So many of our readers "get it", I know there's one of you out there who will "have to have it".
The second thing you can do to one of our historic homes is to butcher it with inappropriate "remudeling". There's lots of those available all over Very Vintage Vegas, and they're easy to spot if you just search the mls. Bad room additions, HD/Lowes cheap cabinets and lighting, painting over, or even worse, tearing out natural brick or stone are all things I see way too often.
Urban Chic Is All The Rave In Remodeling Historic Homes
And the THIRD thing, of course, is to keep the finest of the original elements, and apply your artistry, "green" sensiblity as well as some creativity and flair to make it cool, chic, and hip.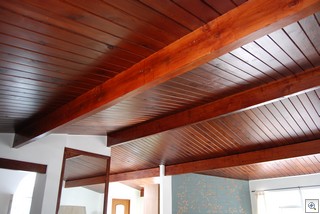 That pretty well describes our other new listing at 807 Oakey, in the John S. Park Historic Neighborhood.
In order to save the original 1955 tongue and groove beamed ceilings, the entire home was lifted off of it's foundation, and the entire foundation and slab was replaced in 2001.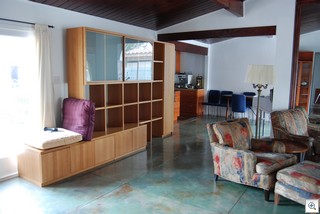 Every single bit of cement, plumbing, electric, heat and cooling, windows, doors and cabinetry were all replaced. Huge effort and expense went into fully insulated both interior and exterior walls, as well as the ceiling. All Permits were pulled, and The City of Las Vegas now considers it to be effectively a 2001 home.
The pictures in the gallery are incredible, but even they don't do justice to this stunning creation in the art of the new urban chic.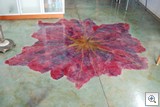 If you love stained concrete flooring, beamed ceilings and urban chic as much as I do, you'll want to consider this fabulous home. There's more photos in the gallery.
Give me a call if you'd like to see it person.