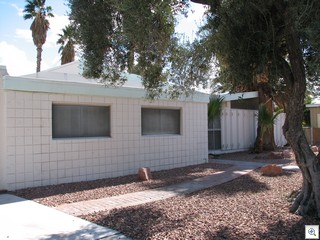 There's an abomination for sale in Paradise Palms.
Driving up to it, you would never know it was actually a butterfly roof, Palmer and Krisel Design, or that it was on the golf course!
I've had these pictures for a while, but was reminded of them when I saw the drawings of the original designs that you can see in the next post today.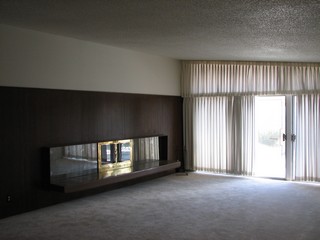 Yes, this is the same home! But somewhere along the way, someone decided that adding a prison barracks looking front would be a good idea.
Inside however…. still has the original floating concrete hearth under the fireplace, all the clerestory windows, walls of glass, and vintage kitchen and baths. It's on the golf course, with a pool and a view deck with circular staircase looking over the National Golf Course and Southern Mountains.
We'd love to see someone turn it back into something like the original rendering. It's been reduced to 359,500 and has been on the market since last June, when it started out at 415k.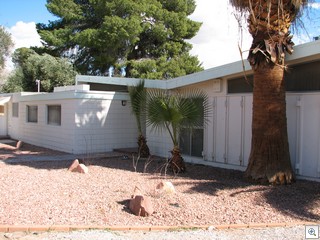 This last photo was taken from the other end of the house, and you can see where the original roof lines are still intact, if they weren't hidden by the front add-on.
Someone could do very well for themselves by tearing off the addition and restoring it to it's fabulous mid century modern design.
It's a probate sale, and the listing agent says to bring all offers. Give me a call or send me an email if you're curious.