This And Every Thursday In Vintage Vegas
Those of you into the electronic music scene, and really cool dive bar lounges from the mid-century need to know about a grass-roots tech-house movement that has chosen the Aruba Hotel as it's Thursday home. The event starts at 10 pm every week and goes till….Late!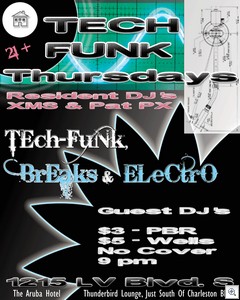 Guest DJ's from Las Vegas and Detroit frequently rotate through the event and, oh yeah.. I'm one of the resident DJ's! So if you like techno, deep house & electro.. COME! It's free b/c I'm all about the community! 1215 Las Vegas Blvd. South. For more info and a preview of the music you can check out my DJ XMS Myspace Page.