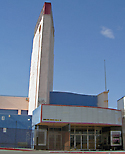 Emails are flying fast and furious.
Supposedly, The owners have applied to the State Historic Preservation Office to pay back the grant monies that were given when the Historic Building designation was granted, so that he can have the designation removed in preparation for demolishing it.
We'll give you more when we get it, but trust us, it won't happen without a fight that's as big as the monumental marquee which has been a landmark of Vintage Vegas since 1943.
From The UNLV Architecture Studies Online Library:
Huntridge Theatre
Architect(s): S. Charles Lee
Address: 1208 E. Charleston Blvd.
Year: 1943-4

The Huntridge Theatre was designed by one of the country's best-known theater architects of the time, Los Angeles-based S. Charles Lee. A Moderne-style building with its streamlined aesthetic, the one-story brick and concrete Huntridge has little exterior and interior ornamentation but does feature a 75-foot-tall fluted tower. This building is one of a handful that has received financial assistance from the state Historic Preservation Commission for renovations. The building was added to the Historic Register in 1993. The theater hosted numerous rock concerts and local events through July 30, 2004 and is now closed.