We're inviting comments regarding the Huntridge Theatre here at Very Vintage Vegas. We promise that all comments will be forwarded to the government agencies.
Joe Schoenmann, our favorite downtown reporter for the Sun only misses on one point. We may be "Stunned" but we're not going to be "SILENT"!
Here's the article from this morning's paper. HISTORIC HUNTRIDGE COULD FACE DESTRUCTION
(Susan… are theatre and theater interchangable?)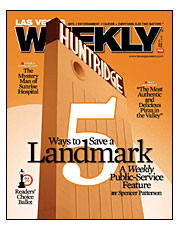 Also you can read an article from 1/26/2006 that was printed & featured in the Las Vegas Weekly. (love that pub.) This article deals, obviously not with the current situation, but rather highlights '5 Ways To Save The Huntridge' by Spencer Patterson. Well worth the read, especially if you missed it when it came out.
Here are a few links on Charles S. Lee that our amazing friend Brian Paco Alvarez researched for us:
http://en.wikipedia.org/wiki/S._Charles_Lee
http://historicfresno.org/bio/lee.htm
http://digital.library.ucla.edu/sclee/
http://cinematreasures.org/architect/71/
Thank you Paco!