Friends Of Classic Las Vegas Monthly Event Will Discuss "Historic Fremont Street"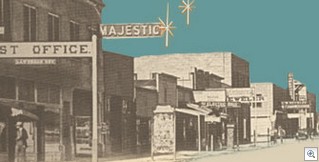 The leading advocacy group for keeping alive the rich heritage and intriguing history of Las Vegas is "Classic Vegas". They hold a monthly panel discussion at the Springs Preserve. This month the topic is "Untold Stories – Historic Fremont Street".
We'll be heading over there after the VVV birthday party, and since you'll already be out and about, you might as well hit both events.
The panelists are:Carey Burke, Brian "Buzz" Leming, Mike Pinjuv

Mike Pinjuv was born in Las Vegas in the 1920s. Both Carey and Brian came to Las Vegas as youngsters in 1946. All three have fond memories of Fremont Street. They watched as the Street evolved from their Main Street to Glitter Gulch to the Fremont Street Experience of today. Along the way, the cruised Fremont Street, watched Helldorado parades on its curbs, hung out at the hamburger joints and in Brian's case, helped design some of the incredible neon signs that still grace the Street.
Join us this Thursday, March 6th
7:00 pm
The Las Vegas Springs Preserve
Admission is $12