We're just getting started! Celebrating our re-branding of community-based marketing of these wonderful Vintage homes & neighborhoods is causing recollection of some amazing mile stones we've built along the way. What better way to start the celebration than to take those of you who have been with us all along the way on a trip down memory lane. For our new readers; we can showcase some of the great moments that made us who we are today.
Reviewing these archives reminds me of so many of our friends who have helped us build an effective vehicle with which to spread the word of this amazing & unique part of town that even so many other Realtors had no idea was taking off w/ such passion. Through out the upcoming week we will be showcasing some of the 'firsts', the milestones that cause me to wonder how everything that's happened so far managed to fit in a single year!
Though, as blogging novices we'd back dated a few posts for web-functional reasons; our first real post on the old VeryVintageVegas.com site featured Ken Wolfson's Avenue Lofts Project.
This post was written by our good friend & previous partner, Ben Nation who has since dedicated his efforts to full-time real estate investment, remodeling & design. (Congratulations Ben, we miss you, but cherish the days we had you with us at VVV & we're happy to see you doing well at what you love!)
Interesting coincidence, that one year later the Wolfson Loft project will be available for purchase later this month and 5 lucky buyers will soon be able to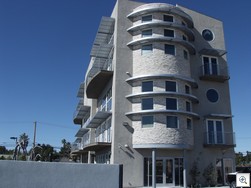 own one of these gorgeous, up-scale Loft Homes located near the central and sexy medical district.
We'll continue to post links back to our 1yr history highlights & look forward to seeing you all at tomorrow's LOPRO mixer to celebrate. The First Drink Is On Us!