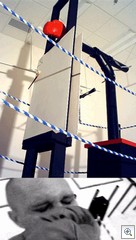 Dear members and friends of CAC – The Contemporary Arts Collective,
Please join us for two nights of performance art on Thursday, March 6th and Friday, March 7th

"Main Event"
Performance Art
curated by Chad Brown
Two Days Only
Thursday, March 6th 5 – 9pm
Friday, March 7th 6 – 10pm (FIRST FRIDAY)
The Contemporary Arts Collective is presenting 2 nights of performance art with a solo piece by Michael Barrett in our main gallery and a group performance piece by UNLV students exploring art in public places in the CAC window galleries. The performance exhibit will be accompanied by documentation around performance art and its place within contemporary art.
The "Urban Lifestyle" In Las Vegas Is One Of The 4 Key Topics We Discuss At Very Vintage Vegas
Since we're bragging all this week about what we've accomplished in the last year, I wanted to mention again that the growing art and music scene in Downtown is a big part of urban living. By helping to promote the Arts District, Arts Organizations, Great Restaurants, Cocktail Lounges, Fremont Street Experience, Fremont Street East Entertainment District and all kinds trendy events, we let the world know that there's excitement and energy in the middle of Las Vegas that just doesn't exist in suburbia.
Since you'll be out and about tonight going to our little birthday party tonight, and then to the classic las vegas history event, you might as well stop in at the CAC in the Arts Factory.
Tomorrow, our own Steve Christmas (who's becoming famous after 5pm as DJ XMS) is spinning at a 944 MAGAZINE special event at the Brass Lounge on Fremont during First Friday from 6 to 9pm. There's a fashion show and party and he'll post more about that in a few minutes. There's something about free drinks at a hosted bar.
HERE'S A LITTLE HINT: Starting this month the First Friday shuttle buses will be making a stop at the EL CORTEZ. Park free at the El Cortez, stop into DJ XMS' thing, get on the shuttle, go to first Friday, shuttle or walk back and spend the late evening at the Griffin, or El Cortez, or Beauty Bar, or Brass Lounge, or Downtown Cocktail Room, or Bunk House, or anywhere in the Fremont Street Experience or the Fremont East Entertainment District.
Of course First Friday will make all those venues extra busy, but they're all open 7 nights a week.
Las Vegas Urban Living Is Vibrant, Exciting, And Ought To Be Part Of Your Life