The Atomic Age Alliance is a volunteer organization dedicated to celebrating historic Mid Century Modernism and Atomic Age design, signage, architecture, culture and business through ongoing community advocacy, activism and educational programs.
We have alliances with the Los Angeles Conservancy Modern Committee, Palm Springs Preservation Foundation and Modern Committee, Classic Las Vegas, Recent Past Preservation Network, Doo Wop Preservation League, Kansas City Modern Committee, and Portland Modern Committee
The March Meeting:
Wednesday, March 19 7–7:30 Meet and Greet and meeting from 7:30 to 9:30
Location: A private home at 2204 Frontier Ave. (Directions: NORTH ON RANCHO FROM CHARLESTON, RIGHT ON REDONDO, LEFT ON RANCHO VISTA, RIGHT ON FRONTIER)
Next Week There's a fundraiser for the Save Maude Frazier Hall Effort: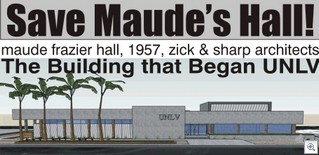 The Atomic Age Alliance is hosting it at DESIGN WITHIN REACH in the new Town Square Mall at Las Vegas Blvd and I-215, (next to Fry's).
Thursday, March 27th
From 6PM to 9PM
Please join us for a FUNDRAISER for the
Maude Frasier Hall Advocacy fund
DWR Studio Town Square
6539 Las Vegas Blvd. Suite C-110
Las Vegas, NV 89119
702.947.8100
Suggested donation $100 per person or $150 per couple
***Complimentary Refreshments!
***Lively Live Jazz Entertainment by the Thurston Howlies!
***And a sneak peak at the Atomic Age educational Slide Show series:
"Introduction to Modernism!"
Don't miss this fun social event for a good cause!