Spring Time Yard Clean Up Reveals Hidden Yard Art – Historic Las Vegas Neighborhoods Have Lots Of Folk Art On Display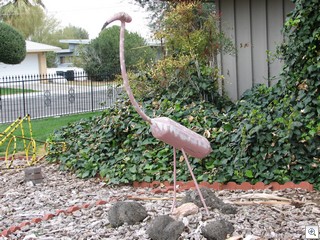 One of the things I love to do is give tours of the classic homes and historic neighborhoods of Las Vegas. One of the many "show off" homes that I drive by is this TIKI home on the corner of Beverly and Canosa, in the Beverly Green Neighborhood.
The owners have just done a major pruning and cleaning of the yard. We used to have to get out and really look to see the folk art that adorns the property.
Pictures are fun, but take a drive to see it yourself. Beverly Way is one street west of 6th Street, and runs between St. Louis Ave. and Oakey.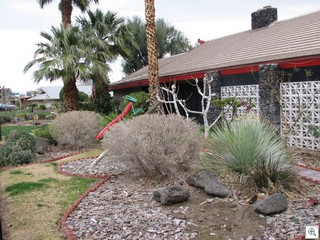 There's great yard art all over Vintage Vegas, and if you know of some, send me a picture, or email me an address. I don't think I've published any on the new blog, but here's some of the other posts I did on "yard art" at the old blog
There's more pictures below the fold.