There's a big pocket of custom homes on the east side of Maryland Parkway. We've talked before about Marycrest, which is 14th and 15th streets as well as Bonita and 3 cul-de-sacs off of 14th, but if you continue east on Oakey, you'll find 4 other neighborhoods that are equally impressive.
Crestview Estates is the name of the custom homes on Chapman Drive and 16th Street. Continuing another 2 blocks to the east are the Morning View Heights Custom homes which are on Cochran Avenue and 17th Streets.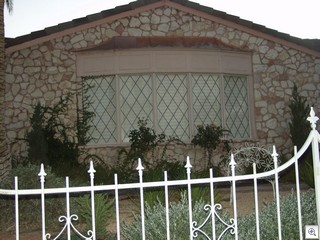 There's also 2 very really fun cul-de-sacs called Concordia Place, and Becke Circle. If you've never turned north off of Oakey into these, you're missing some of the most interesting homes in all of Vintage Vegas. Our absolute favorite is the Herbst Mansion, which is the epitome of 2 story modernism. Concordia Circle boast the best collection of leaded glass windows to be found in one place.
One of the most stately and impressive homes is the SW corner of Chapman and Oakey. There you'll find our newest listing, which I hinted at in the last few weeks. I'm on my way to take the pictures right now. We'll have the flyers, MLS listing, brochures and most of the rest of the internet marketing ready by the end of the day today. Watch for them tomorrow.