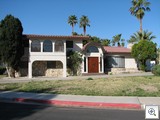 Thanks to all of you who stopped by the open house at 1700 Chapman. 8 readers who I've never met before stopped by to say hello, as well a lot of friends.. About 10 people from the neighborhoods dropped in when they saw the signs, just because they were curious.

One thing that really made my day was that most of the folks who saw the house really appreciated the original bathrooms, and everyone loved the kitchen, the doors, the hardware and the yard and pool. Only 1 of the approximately 20 people said they'd "have to rip out all 3 bathrooms" to make them look like one of those new homes in the suburbs.
When I showed some of the details in the post on Saturday, I didn't have a close up of the inlaid wood mosaic accents in the kitchen counters, but I grabbed a good picture during the open house.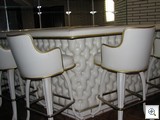 One of the other great retro features that everyone liked was the tufted leather bar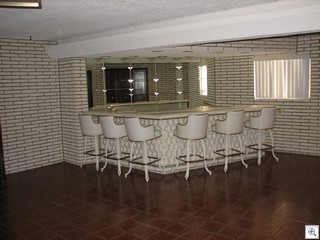 and matching barstools in the what we're calling the "Elvis Game Room". The entertainment space in this home is terrific.
The flyer which shows all the great retro themes of this home is now in our GALLERY OF FEATURED HOMES, which is always in the left hand column.
While you're looking thru them, who do you know that's thinking of buying or selling in the historic pre 1970's Las Vegas?
Your referrals are always appreciated!