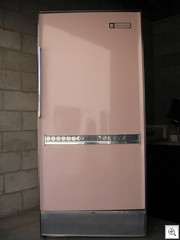 Work with me here. We could buy one of the those cookie cutter homes out in the suburbs that are being given away by the banks. We could rip out the particle board cabinets and "looks just like the neighbor's" granite.
We could replace the kitchen with the metal cabinets and matching pink appliances that are sitting in storage in one of our reader's garage.
Then we could get all the newspapers and CNN to come out and do a human interest Las Vegas Real Estate story about the crazy lunatic that thought a pink kitchen with metal cabinets was totally cool.
Or… We could put them back into a home that's similar to the one they came from in the first place. Those homes are in Vintage Vegas.

1 Fridge 32wx69hx29d
1 oven with glass window 24wx33hx29d
1 oven w/out window 244wx29hx29d
5 hanging, two-door cabinets, each 30wx30hx13d
1 hanging, 2 door cabinet 21wx30hx13d
2 Floor cabinets, 2 doors 21wx341/2hx241/2d
1 Floor cabinet, 2 doors 24wx341/2hx241/2d


1 double bowl sink 30wx8hx22d
1 stove with 4 burners 30wx10hx22d
1sink/stove cabinet, 4 doors 60wx341/2hx241/2d
Air Filter 18wx12hx12d
Hood 241/2wx19hx28d


There's enough to do over a small kitchen.
Anyone SERIOUSLY interested should drop me an email, or give me a call and I'll put it the two of you together. I'm a great negotiator on homes, but I'm staying out of negotiating this deal.