The other day I mentioned the most famous mid century modernist designers, Charles and Ray Eames.
This summer, they'll also be honored in another way that will generate even more awareness of the ever growing modernist revival movement. The United States Postal Service will issue a flat of 16 stamps honoring them.
from the US Postal Service Website:© 2007 USPS. All Rights Reserved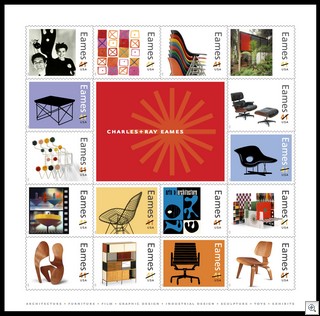 In recognition of their groundbreaking contributions to architecture, furniture design, manufacturing and photographic arts, designers Charles and Ray Eames will be honored next summer with a pane of 16 stamps designed by Derry Noyes of Washington, DC. If you've ever sat in a stackable molded chair, you've experienced their creativity. Perhaps best known for their furniture, the Eameses were husband and wife as well as design partners. Their extraordinary body of creative work — which reflected the nation's youthful and inventive outlook after World War II — also included architecture, films and exhibits. Without abandoning tradition, Charles and Ray Eames used new materials and technology to create high-quality products that addressed everyday problems and made modern design available to the American public.
I've been exclusively using the wonderful superheros stamps for the last few months, and can't wait to switch to these.
There's a whole evenings worth of reading, pictures, stimulation, announcements and events at the online home of Charles and RAy Eames.
I already knew about these stamps, but was reminded tonight from a post at DenverModern which is a Denver Agent with a blog similar to VVV.