We're working with several different buyers who specifically are looking in Paradise Palms because all of the homes were designed by Palmer and Krisl, the noted California Architects.
There's 43 homes for sale. Some are spectacularly interesting, and some are just abominations. There's several bank owned properties, a few short sales which aren't worth even discussing, and a LOT of really great homes. The lowest priced home for sale in Paradise Palms this week is 119,000 (TOTALLY A FIXER with a pool), and the highest is the amazing custom mansion that we had listed last year at 1.1m which is now reduced to 900k.
Our listing on Brazos is reduced to 250,000 and deserves to be considered if you're thinking of Paradise Palms
Here's just some random shots of things I've seen lately in Paradise Palms.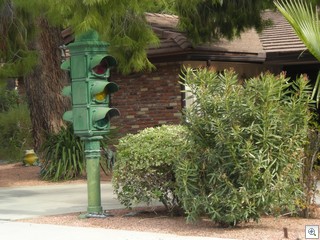 There's some really great yard art and ornamentation spread around in Paradise Palms. It's a really fun neighborhood to take a drive thru on a lazy day off.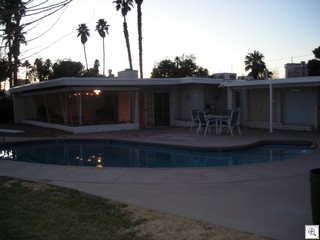 A FSBO Foreclosure. He'd rather the bank get it than let some investor make money on his hardship. There's 3000 sf, and a terrific pool and yard. 350k would take it, or wait a few more months and try to get it from the bank.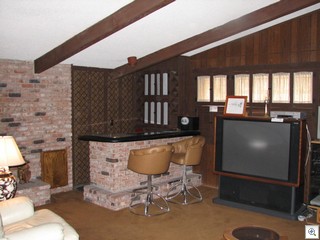 Remember the RUMPUS ROOM? This one is at a home for sale in Paradise Palms. It has a 3rd bath also, as part of the rumpus room, which is accessible to the pool.
It's 269,000, and has lots of mid-mod features that are covered up by stupid drapes and shutters and all kinds of easily corrected weirdness. But in spite of all of that, it's a real gem.
The pool has a tiki hut patio cover next to it and a whole "tiki" themed outdoor kitchen. Call me, and I'll show it to you.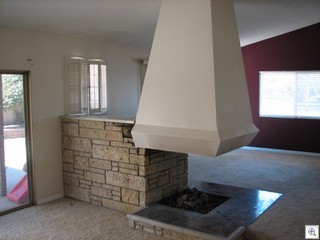 I'm reminded of the Kohler bathroom ad where the lady tells the architect to design a house around a Kohler Faucet. In this case, let's rebuild the bank owned repo around this suspended chimney and gas burning fire pit. The rest of it needs a LOT of work, but it's a steal at only 225k.