50 Years Of Dining On The Las Vegas Strip – From The UNLV Online Exhibit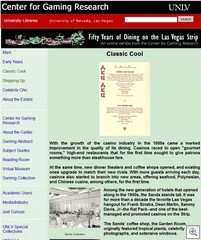 Thanks to regular reader Judy G. for finding this little gem for us. Las Vegas History is one of the 4 topics that we cover here at Very Vintage Vegas.
The others of course are Classic Homes, Historic Neighborhoods and Urban Living.
The UNLV online exhibit will give you plenty of links to follow to keep you busy for hours. Have fun.