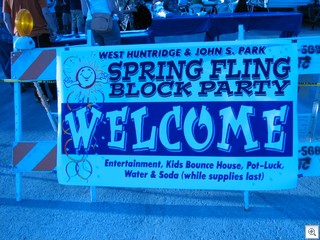 Perfect weather, Pleasant Conversation, Kids on skateboards, lots of food, and a camera with a bad setting. The pictures have a blue cast. Unfortunately, I can't go back and re-shoot the pictures. Maybe next year!
If you're neighborhood association wants to have an event, the city and county Neighborhood Services departments can help you to make it happen. Just ASK!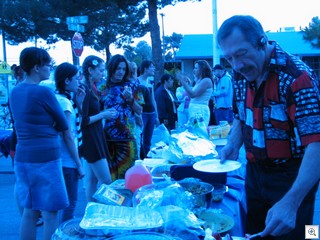 Hot topics of the conversation included how to get CIRCLE PARK open again, weeds, graffiti, and naturally home values.
I repeatedly told people not to worry about the home prices. It only matters the day you're wanting to sell. Most of the neighbors I spoke to have NO INTENTION OF EVER MOVING, since they love their neighborhood and their homes so much. I made the point over and over again, that the historic neighborhoods will recover faster, and the improvement momentum will start to pick up speed again, now that the market seems to be creating a bottom.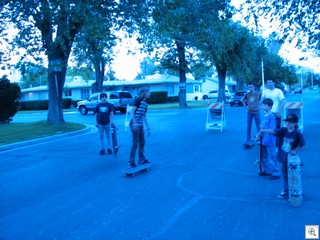 We met many people for the first time, and were extremely encouraged that they all wanted to get involved and help to do something.
My first suggestion is that they should go knock on the doors of everyone in a 10 house circle around themselves, and say hello.
Of course, I suggested that they help us by reporting EVERY graffiti tag the moment they see it.
I asked them to attend Planning Commission and City Council meetings when topics come up that affect us, and to attend and volunteer at the neighborhood meetings.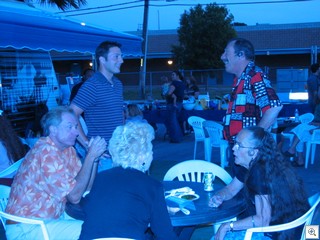 Young and old, and in between were there, and everyone had a great time.
The Vintage Vegas Neighborhoods are fun and energetic and devoted to improving the quality of life for all of our neighbors.