Of all the many Vintage Homes in the Las Vegas Historic Neighborhoods that I've represented (either as listing agent or buyer's agent) – this one is my favorite. We put it on the market this morning for $350,000.
Or, I could have led with this:
The home most talked about in the recent Mid Century Modern Home tour from Nevada Preservation Foundation was this amazing time capsule in Downtown Las Vegas.
It's truly one of the best preserved of any of the Las Vegas Vintage Homes that I've have the pleasure to represent. Built in 1963, it has only had 2 owners – and both of them were gentle and loving with this classic custom home. Neither of them added anything on, they didn't remodel, and they certainly did not destroy the Mid Century vibe. Now it's time for a new owner – and I know there's going to be a line out the door.
If you'd like to discuss the possibility of owning this Classic Vintage Home…. call me or email me. I'm just around the corner and will be happy to make an appointment to show it.
Everything that people ask me for in their Mid Century Modern Home is represented in this amazing property. See for yourself:
30 feet of glass wall out to the oversized covered patio!
An original functional kitchen that has all the excitement we expect from a Mid Mod.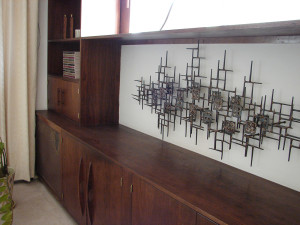 Built in bookshelves, stereo cabinets and storage!
Original bathrooms have haven't been beaten to death with.
ANYTHING BUT BEIGE!
Give me a call if you have a home to sell or are shopping for your new pad. No one knows Vintage Vegas like Uncle Jack does. 702-378-7055 or email me – [email protected]