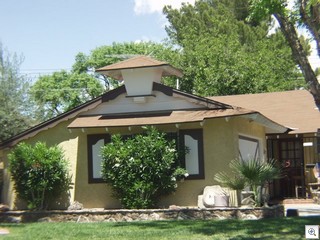 Heidi Swank, one of the very active preservationists and a UNLV Professor in the Sociology Department posted this comment on an old post about Cinderella Ranches. I thought it was a good question that certainly stumped me. Anyone know?
Heidi's Comment:

I believe these Cinderella Homes are a later version of homes made by an architect named Mellenthin. Mellenthin houses often have the birdhouse features but also often have vaulted ceilings and those nice criss-crosses in the windows. However, they do not have the low low overhangs shown in two of the pictures above.

I am trying to figure out if our house is a Mellenthin house. If anyone knows anything more about Mellenthin houses please post it. I am having a hard time finding much information.

Thanks.