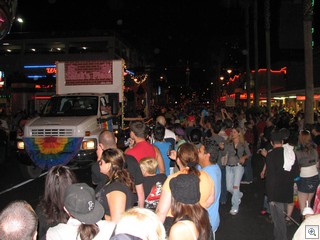 I had the opportunity to speak to several dozen "suburbanites" and visitors over the weekend. I didn't have to go very far to find them. They were among the 10's of thousands of people who were downtown on Friday Night and all day Saturday. SIX simoultaneous events drew huge crowds.
First Friday, as always coincided this month with the "Urban Living" bus tour, the Gay Pride Parade on Friday, The Gay Pride Festival on Saturday, The "Race For the Cure" for Breast Cancer on Saturday, the PACC meeting, The Wolfson Lofts Grand Opening, as well as as the normal visitor crowd who came to see the Fremont Street Experience. The out of town visitors were totally in awe of how great downtown Las Vegas has become.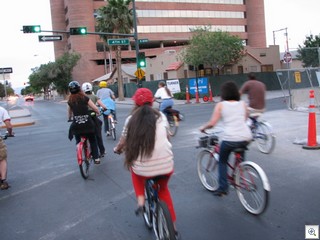 And then Saturday Night, we had the 4th "pedal-philes" bar crawl. It was my first time, and the first time on a bicycle in 20 or more years. I've got pictures and stories in a post below. I've also got pretty good A SKINNED KNEE OUCHIE to prove I was there.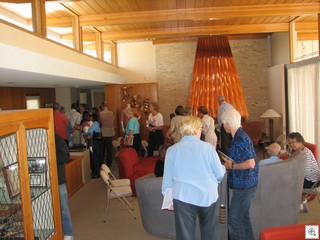 Most of the people I talked to were being exposed for the first time to the change that's taking place downtown. I heard many comments such as "When did they build all these hi-rise condos?" "What's that funny building across from the Clark County Government Center?" Where did all these people come from?" "I didn't know there were so many fun places downtown!" "Wow, they really improved the light show!".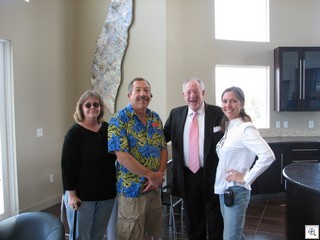 We ran into and got to speak to the mayor twice, once at the bus tour event, and again at the grand opening of the Wolfson Lofts. A whole group of members of the Preservation Association Of Clark County came downtown from all over the valley, just to get their first view of the recently restored "Morelli House", most of them hadn't ventured out of the suburbs in years.