One of the goals of Very Vintage Vegas is to try to increase the awareness of the current and future homeowners about the significance of the architecture and the original elements of the homes.
Theres a neighborhood in Denver that has it's act together. In similar fashion to the Eichler neighborhoods of California, they've succeeded in creating a love affair with the architecture of the era. Oh, how I wish that it was that way in the vintage and historic neighborhoods of Las Vegas.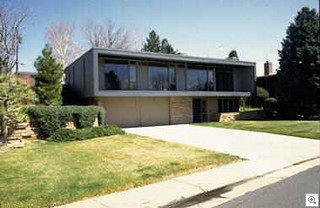 Arapahoe Acres is the first post-World War II residential subdivision listed as a historic district in the National Register of Historic Places
They've set up some workable standards to try to get the homeowners to live up to. and based on the photos, they've succeeded well.
The Arapahoe Acres Historic District has these standards on it's website, and I copy them here as FOOD FOR THOUGHT for all of our Vintage Vegas Neighbors.
Granted, Arapahoe Acres is only 124 homes, but the standards could be adapted, adopted, or at least passed around by any of our neighborhood associations, or preservation groups.
There's pictures of most of the homes on the Arapahoe Acres Website.
STANDARDS IN ARAPAHOE ACRES
Arapahoe Acres' Design vocabulary allows individual evaluation & preservation of homes based on Secretary's Standards retaining a home's unique architectural features & neighborhood integrity. Early identification & correction of active deterioration costs less than major repairs or replacement of historic features & materials.
Water damages historic architecture: the structure, exterior & interior. Roofs, eaves & fascia play an important role in design vocabulary of the neighborhood. Condition of the roof & efficiency of water drainage are more crucial to physical & aesthetic integrity of the homes. New technology should be continuously explored. Water damage is also a particular threat to custom landscaping features, especially masonry walls, planters & custom decorative fences.
Masonry should be cleaned to halt deterioration or heavy soiling. Cleaning method should be judiciously tested over time, & utilize the gentlest possible method. Improper or harsh cleaning can permanently erode surface of masonry materials, encouraging deterioration.
Tuckpointing repairs should use mortar matching strength, composition, color, & texture of original mortar. Width & profile of original mortar joints should match original.
Similar consideration should be paid to cleaning & maintenance of painted, stained, varnished or waxed wood surfaces & details. Cleaning methods should be careful to avoid water, chemical or other damage to subject or surrounding materials & finishes.
When historically painted surfaces are repainted, colors should fit within original palette. Arapahoe Acres has a very broad range of appropriate colors in comparison to the very restrictive range appropriate to a row of historic brownstones
To retain integrity, major alterations of historic materials & features shouldn'tt be undertaken. Architectural character of a building can be as easily compromised by small alterations that might seem insignificant.
Masonry in cement block, all brick types & natural stone should not be removed, resurfaced, painted (if previously unpainted) or altered. This includes original exterior details such as planter features, staircases, walks, retaining walls, courtyards & walls.
Cement block & plywood, widely utilized by modernist architects, are often targeted for refinishing or removal because they are regarded as "common." Preservation is as essential to the character of Arapahoe Acres & individual homes.
Wooden details & siding should be retained, including original exterior wall, balcony & fascia finishes, lapboard, board & batten & plywood paneling. Garage walls with flush doors are architecturally important & should be retained & maintained. They create appearance of continuous, seamless surface- key to simplicity of many home's exteriors.
Original doors, screen doors, gates, fences & street numbers should be retained.
Windows should be retained in original configurations. Woodframe & metal casement windows should be respected & properly maintained. Functional & decorative exterior sun-screen devices & louvers shouldn't be removed.
Original l&scape should be considered & respected when designing new features & planting materials.
Original interior materials (built-in furnishings, mahogany, teak paneling, exposed beams, exposed brick or stone, plywood ceilings & cork floors) should be retained, including original finishes. Where historic features are damaged beyond maintenance, repair or restoration,replace in kind.
By today's standard, the largest of homes in Arapahoe Acre appear small. The greatest threat to individual houses & the neighborhood's integrity are additions. Additions should respect the original setbacks & siting as outlined in the covenants; respect original size, scale, roof forms, materials, colors, & details of the house; respect relationship with neighboring homes including privacy & access to sun. Additions should be located unobtrusively in back yards, not visible from the street. Additions & alterations should not be modeled on inappropriate references to Colonial, Tudor, Classical, Bungalow, Victorian, or other historical styles unrelated to International Style, Usonian Style or Japanese influences
If personal taste dictates alteration of original architectural features, materials & forms should retain historic fabric so future owners can restore home's original architecture. Additions & renovations enhancing home's resale value are typically designed by professional architects who demonstrate sympathy for design values of Arapahoe Acres & individual houses