Privacy Screens On Mid Century Modern Homes For Sale In Las Vegas Can Be Very Ingenius
This is pattern #35 in our series, but there's more to it than that.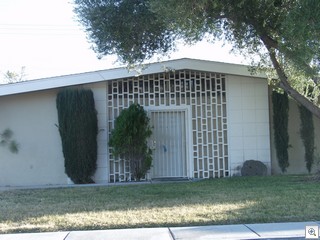 There's this mid mod in McNeil that's for sale for 450,000. It's hard to miss if you've driven thru the neighborhood, since most of McNeil is a ranch version of Mid Mod. The basic bones are there, but this been some not so good things that have been done to the home (strictly from a purist point of view) that really mess up the aesthetic of what Mid Century Modernism is all about.
I'm not picking on it. In fact I'm suggesting that someone could make the property back into what it was in 1960 with out a lot of money. I'm told by the listing agent that the house won a design award in 1968, but he doesn't have any documentation. Maybe Vegas Judy or one of our other internet acheologists could dig it up for us. There's a house in Glen Heather that's still original, and seems to have the same architectural design.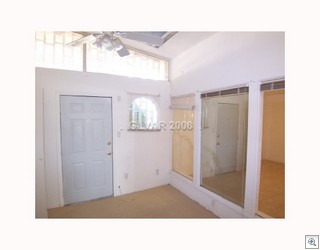 At the front door (which used to be about 12 feet further back behind the courtyard, is a terrific pattern made up of 2 different block designs. I pulled a picture off of the MLS that shows the front door where it sits now. You can see the stone screen just outside of the door. This picture is taken from where the front door used to be.
The big picture windows in this photo are an entire wall of the huge kitchen that used to look out on the courtyard.
There's a lot more about the home itself that I'd love to share with you if you're in the market for a mid mod project.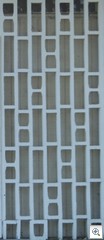 Now, about those blocks.
I like how it creates diagonal lines of pattern in a very vertical setting of the blocks. There's only two block designs in this, though it looks like 3. Who ever set them back in 1960 really knew what he was doing.
There's an figure 8 shaped block, and an empty square block that's the same height as the figure 8 block. The picture's clickable to see it larger.
The rectangle that looks longer is really an optical illusion. The long rectangular shape isn't really there at all, and it isn't a block, it's just the empty space between the other blocks.
That massive folder of pictures is getting smaller all the time. There's about 15 more to go. When I declare that the series has ended, I'll offer a prize to anyone who can find one I missed.