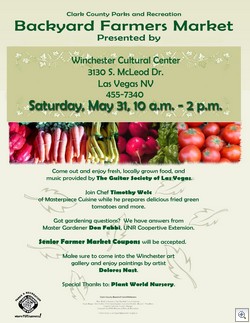 I don't ever remember a farmer's market in Vintage Vegas. I know there's one out in Slumberlin, but this will be a first that I know of.
The Winchester culteral Center is a Clark County Park just north of Desert Inn Road on McLeod Ave. There's also an urban forest, a skateboard park, art gallery, meeting rooms and lots of other great facilities.
Saturday, MAYÂ 31 from 10am till 2pm.
The flyer is clickable if you want to read it full sized.
Besides the fresh fruits and vegetables, there will be music by The Guitar Society of Las Vegas, Chef Timothy Felc of Masterpiece Cuisine will be preparing fried green tomatos, Master Gardern Don Fabbi from the UNR Coopertive Extension will be there to answer questions, Delores Nast will be showing her paintings in the gallery, and of course you can bring your skateboard and crutches.